Businesses can be relieved that the United States and China are once again returning to the negotiating table after a seven-week stalemate that had put significant pressure on both Chinese manufacturers and US importers.
Although the truce has averted new US tariffs on an additional US$300 billion of Chinese goods, past rounds of tariffs remain in effect and there is no indication that the trade war will end any time soon. The uncertainty makes it critical for businesses to have dynamic, efficient sourcing strategies.
Previous tariffs on US$200 billion of Chinese goods (set last year at 10 per cent and increased to 25 per cent in May) were a direct blow to US companies sourcing a large share of taxed goods from China. Similarly, in acute situations on the other side, where Chinese manufacturers' exports to the US are sometimes subject to DDP or delivery-duty-paid terms (which obligate the seller to pay duties in the destination country), tariffs can be an existential risk.
For many affected businesses, the difference between 10 per cent and 25 per cent tariffs can be critical because it takes the option of a negotiated absorption of the tariff increase off the table. Handling the initial 10 per cent was a challenge last year, and there might not be enough room to handle an additional 15 per cent.
For company management, just keeping up with changes in tariff categories and rates can be a challenge amid day-to-day operational responsibilities, not to mention the additional time required to assess the tariffs' impact on business.
As businesses digest recent changes and continue to monitor headlines for the next surprise announcement, broader questions remain: what does the trade dispute mean for supply chains and sourcing strategies going forward and are we likely to see a manufacturing exodus from China?
Despite trade uncertainty, companies around the world need Chinese suppliers. There is simply no one country or group of countries with the breadth and depth of manufacturing to match China, whose advantage is based on infrastructure and human capital, and is the product of decades of compound growth.
While certain countries have developed niche expertise – like Vietnam in footwear and apparel, and Malaysia in small electronics – there is no credible alternative to China in terms of capability, price and scale.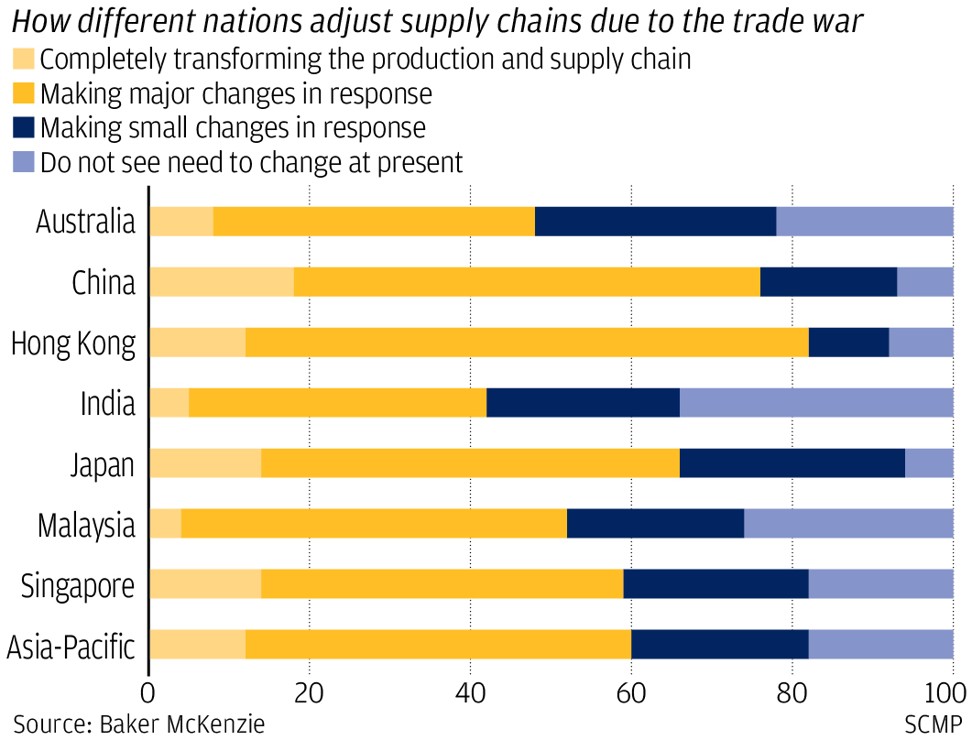 Manufacturing data from the World Bank underscores the vastness of China's capabilities. China generated US$3.56 trillion of manufacturing value added in 2017, exceeding the US (US$2.17 trillion) and dwarfing countries such as India, Indonesia, Thailand, Malaysia and Vietnam, which are often mentioned as alternative sourcing countries.
Given the stark differences in manufacturing capabilities, for just 25 per cent of China's manufacturing value added to move to these other countries, their combined capacities would have to more than double. Such a shift is unlikely to happen overnight.
Even 25 per cent tariffs do not change this basic calculus, though they might meaningfully affect certain businesses.
A recent survey by AmCham China and AmCham Shanghai found that, despite the escalating trade war, around 60 per cent of US companies were not even considering relocating manufacturing from China to other countries. For the remaining 40 per cent, their exploration of manufacturing alternatives is likely to prove difficult.
The continuing trade war is a liability that can be factored into a broader sourcing strategy. The first step is for a business to evaluate its sourcing process. This can range from a holistic look at its global sourcing strategy to a tactical analysis of the impacts of recent tariff changes.
For companies that have diversified manufacturing and sales bases, it is possible to rebalance internal supply chains to reduce the flow of goods between China and the US. For others, a careful analysis of a company's products alongside the US' Harmonised Tariff Schedule may reveal opportunities to reclassify goods into non-tariffed categories.
A similar product-by-product review can also be critical for intermediate distributors who have to justify tariff-driven cost increases to customers.
In normal times, good sourcing requires the navigation of diverse markets and cultures. The recent trade uncertainty adds a new layer to the already complex equation, and businesses which can take a longer view and craft a dynamic strategy are best placed to succeed.
Source:www.scmp.com/comment/opinion/article/3017901/us-trade-tariffs-cant-change-fact-china-worlds-manufacturing